BIOMIMICRY
The conscious emulation of nature
""Sustainability must meet the needs of the present without compromising the ability of future generations to meet their own needs".
For creating sustainable designs, biomimicry mimics nature consciously. Learn from it, emulate its forms, processes and natural ecosystems. These creations are applied in diverse disciplines such as industrial design, engineering, businesses, economy, architecture and social system, among others.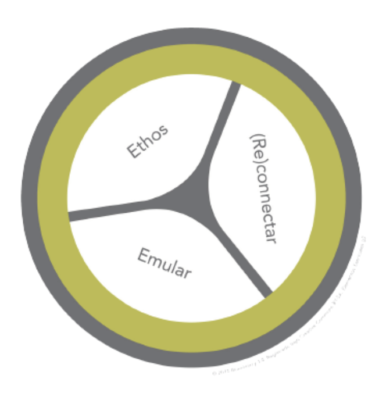 Créditos : Biomimicry 3.8. Bajo licencia Creative Commons CC-BY-SA 
BIOMIMICRY
3 fundamental elements
Biomimicry can only be understood through its elements and it is necessary that all of them are taken into account. To use it as a truly sustainable model we need a design of products under an ethic that respects life and reconnect us with nature. Likewise, in its frequent known way, emulation allows one to imitate organism's strategies to be successful under their surrounding context.
ETHOS
Biomimicry has an ethical relation with nature. It has as a goal to respect the natural world and as a result, to be responsible socially and environmentally in order to promote the economic sustainability of products and services for the XXI century. 
RECONNECTION
Biomimicry connects us again with nature. We've been disconnected for so long and a fair example of this is the division between the urban and rural landscapes. Thus, biomimetics bring solutions that reconnects us with our natural surroundings. Reconnect not only implies to regain our contact with nature, but also that such relation is not based on the exploitation of resources from it. We therefore propose to reconnect from a humanistic, aesthetic and naturalist view.
EMULATION
Biomimicry emulates forms, processes and systems from nature. This imitation should be performed sustainably, that is, respecting earth's limits.
ETHOS
Several indigenous groups consider nature as part of their cosmology and vital organ for their development. A good example is given by the Khasis community in Meghalaya, India. Given unpredictable weather changes produced by monsoons, such as strong winds and rain during a season of the year, this population has opted from centuries ago to build communication routes that are produced from rubber fig tree's roots. In harmony with surrounding nature, roots grow through guides set up by its dwellers, building bridges and roads that connect them between villages. These structures have been proven to be resilient, being capable of resisting extreme weather conditions.
Routes are used for bartering, commerce and are fundamental for students to local schools. 
In this way, the community has been successful in respecting the environment without creating an exploitative relation with nature.
Fuente: Watson, J (2020). "Lo-TEK: Design by Radical Indigenism" 
RECONNECTION
EMULATION