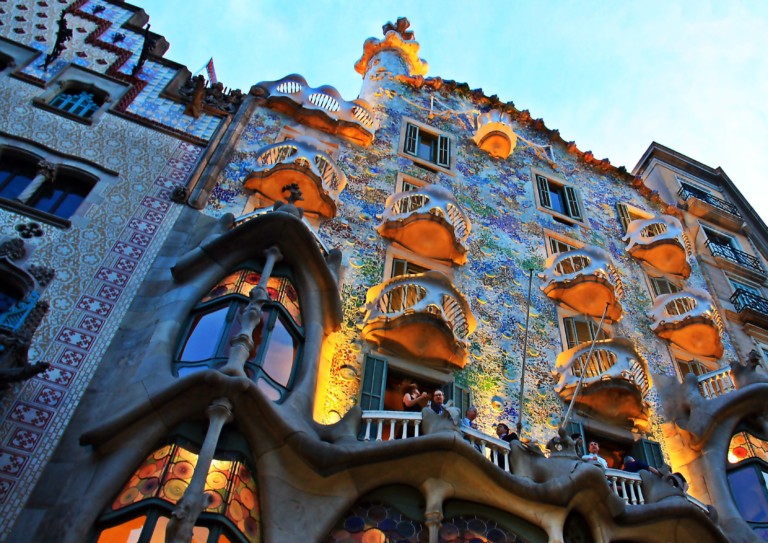 Gaudí is undoubtedly one of the best architects in history. And the most incredible of all is its close relationship with biomimicry
Hovering, I write about it. There is a corner in the world of low hills that merge with the mediterranean sea, a city full of stories, a muse that has inspired artists, architects, designers and writers. Barcelona is with no doubt an innovative city, where ideas materialize, they are successful and long-lasting. Before landing, I can see singular shapes in some of its neighborhoods from the air. Between the straight lines of the streets, colorful and meandering shapes appear, hollowed out beehives, buildings with reptilian and coral shapes, mysterious guards protecting the roof of a building. I observe the architecture that today we would love to be the norm and not the exception: the legacy that Gaudi left us. 
Did he appear ahead of his time?The years in which Gaudí lived his childhood, adolescence and adulthood, run in parallel with the industrialization of the western world, in which the exploitation of resources begins to accentuate, as well as the division between natural and urban civilized spaces. To achieve this, a modern economy was required, which involved bringing cheap subsidized materials from distant places, as well as the use of steam and coal as energy sources for different industries. However, this architect was coming against the tide in several ways. First, he understood that nature and the environment that surrounds it have an inseparable relationship in buildings, under the concept of organic architecture (Kim S, 2015). Second, he abstracted patterns from nature, with their unique symmetries and solutions. Third and most important, it generated a guide for next generations : "The architect of the future will build imitating nature, since this is the most rational, economical and durable method of all "(Mirat et al, 2018). Amazingly, through his work, he gave us a manual on biomimicry and sustainability. For him, the "great book that is always open to make an effort to read is that of nature" (Mirat et al, 2015). 
Let's start with forms. Gaudí uses geometric shapes present in nature, such as the "catenary", "helicoid" and "paraboloids" as architectural solutions (Liu, 2015). Interestingly, he is able to do them with just the use of rulers and cords. These imitations occur as metaphors, imitations, structures, and decorations (Soyeon K, 2016). Biomimicry is part of his creative process, since he manages to abstract design principles from natural strategies. In his case, he does it to provide solutions: he optimizes the mechanical structure of his buildings. In a spectacular case, it eliminates the use of structures used in Gothic architecture by pillars of branched tree structure, generating great savings in materials. Designed aerodynamically, as in the bell towers of the Sagrada Familia, which are able to reduce the thrust of the wind. Use shapes inspired by the plants of Casa Vicens. It uses these geometries by increasing lighting and reducing energy consumption. In Casa Batló, for example, he increases the windows on the façade and patios for this purpose.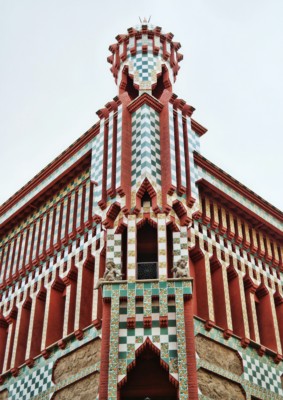 Forms of plants in the Vicens house. Taken from: https://www.pexels.com/search/casa%20vicens/
Within the emulation of forms, Gaudi uses principles of nature such as being attuned and locally responsive as well as achieving efficiency in the use of resources. For this, it uses local and inexpensive materials from the Catalonia region, such as bricks, stones, marble and tiles. Likewise, it recycles all kinds of materials that come from construction's waste and other industrial sectors. His works are adapted to the Mediterranean and its mountainous climate through solutions for temperature regulation. 

Regarding processes, one of the successes of his works is the natural ventilation inspired by organisms to achieve bioclimatic strategies, as evidenced in the Casa Batló. Also, the thermal insulation achieved by certain organisms is embodied at the Milá house, in which the floor works independently to separate the outside temperature from the inside. In these cases, there is sufficient evidence to show that it takes advantage of principles such as the use of low-energy processes, cyclical processes, and adaptation to changing conditions.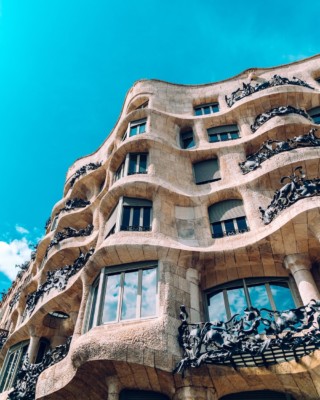 Thermic insulation through the use of forms and material at Casa Milá (La Pedrera).  
https://wallpaperaccess.com/gaudi 
Perhaps the best example of his system's conceptualization occurs at Park Güell, where emulation, ethos and reconnection are intertwined. It merges with the ecosystem that surrounds it, generating an unbreakable relationship, forming one of the most beautiful urban spaces in the world. During its construction, Gaudi made frequent visits to understand how to harmonize it with the surrounding environment, preserving the beauty of nature without need to sacrifice it. The park proposes an interaction between architecture, environment, nature and the human being. It has solutions for managing water in the arid zone that surrounds it. The materials used are local and recycled. Native species are conserved and added to create an ecosystem similar to the landscape. The principles of nature used in the place are practically all those described in the discover section of Greenroad.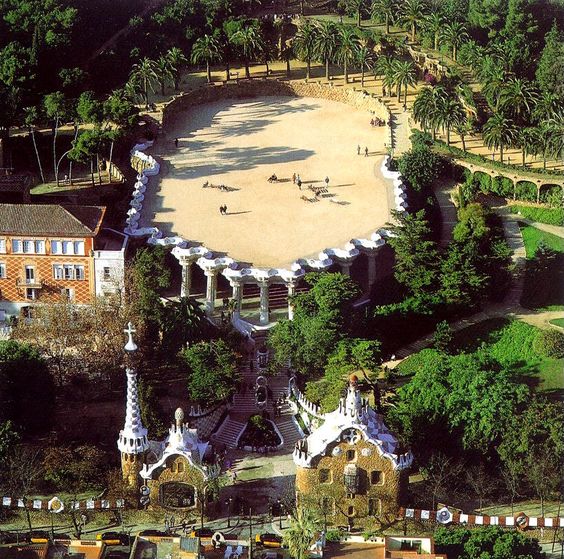 A biomimetic system: Park Güell designed by Gaudí. https://co.pinterest.com/pin/405605510175830398/ 
Today the building industry consumes 40% of extracted natural resources and energy, producing between 30-65% of waste and 40% of greenhouse gas emissions (Acha et al 2013 in Mirat et al, 2015). Likewise, materials coming from distant places increase the carbon footprint. It is necessary to look back and learn from this enormous architect who left us a legacy of biomimicry and sustainability. Currently, companies such as Terrapin Bright Green® in the United States have incorporated the concept of biophilia in their designs. Architectural firms such as Kengo Kuma in Japan, Foster + Partners in London and Architekton in Arizona have managed to use biomimicry as a guide to reconnect with nature through the exciting world of sustainable architecture. 
We recommend the following sources for further reading 
Soyeon, K; Yoon, J and Cho, K (2016). A Study on Organic Architecture Characteristics in Works of Gaudi and Hundertwasser. Journal of Korea Institute of Spatial Design, Vol. 10 No. 6: 23-32. 

Liu, P. H and Chen, C. W (2015). An exploratory study of the geometrical elements in Gaudi's Architecture. International Journal of Arts & Sciences, Vol 08 (03): 51–58. ISSN: 1944-6934: 

Salas, Mirat, C;Bedoya, Frutos, C and Adell, Argilés, J. M. (2018) Antonio Gaudí, percussionist of sustainability and biomimetics in architecture, 100 years in advance [online]. Consultation date: May 27, 2021. In: ACE: Archictecture, City and Environment = Architecture, city and environment 13 (37): 71-98. DOI: http://dx. doi. org/10. 5821/ace. 13. 37. 5348 ISSN: 1886-4805. 
Collaboration: Beatriz Gómez (Mexico), urban development and environment in the writing of the document. Enrique Rosas(Colombia), architect in the revision of the text. 
What's your reaction?
0
none